Howdy Wagon Masters!
49er RV Ranch has the grandest corral to circle up your modern day wagon train! Groups consisting of 8 or more RVs traveling together qualify as an "RV Club". We look forward to serving you and your RV club with our "Old Ranch" hospitality!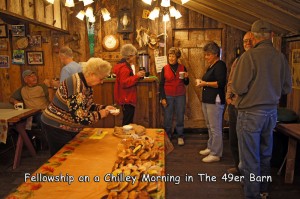 Not only will your club enjoy the Nugget rate of $40 per night, but you now have access to our club rooms any time during your stay… at no additional cost! To hold your reservations we require a $10 deposit per site and a club agreement and registration form to be completed by the Wagon Master. The final invoice will be presented to the Wagon Master upon his/her arrival. Our club coordinator will assist you through the registration process as well as book any local club activities with applicable discounts.
We have 2 club rooms that provide a relaxed and cozy atmosphere for dining and group activities. "The Stock Barn" has two rooms: The Tack Room accommodates up to 50 people, the Blacksmith Room up to 20 people. Both rooms can be combined. Each has a restroom, refrigerator, microwave, sink, oven/range and big flat screen TV. Each room also has a warm and cozy wood burning stove for those chilly evenings. Wood is provided by the ranch.
Also included is our onsite concierge to assist your club with ranch and local activities and meet your clubs needs. We guarantee that your club will have twice as much to see and do than you have time for!
Finally, as an added incentive, if your club has no cancellations and completes the forms in a timely manner, then 49er RV Ranch will provide your club a complimentary continental breakfast on the morning of your choice!
So round up the wagon train at the 49er RV Ranch corral and enjoy the hospitality and the gold mine of activities of the Mother Lode Country!